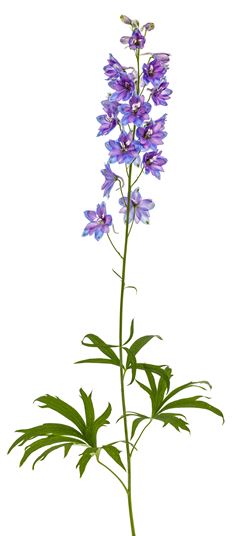 LARKSPUR AND DELPHINIUM
Consolida ajacis; Delphinium elatum
kon-SOH-lih-dah ah-JAY-sis; del-FIH-nee-um eh-LAY-tu
Description
These botanical cousins personify the cheer and charm of a storybook cottage garden. Both bear dozens of ruffled, bright ½ - 1" (1.3 - 2.5cm) blossoms on racemes (stalks) from 16" - 6 ' (0.4 - 2m) tall, and either can achieve the same look in a floral design.
The flowers of both are trumpet-shaped with a front collar of five single or double sepals ("petals" that are really extensions of the flower's calyx or base), and a long, tapered funnel in the back. This tail-like appendage inspired both their common names: larkspur because the flower resembles a lark's foot with its long, curving back spur; and delphinium from the Greek delphis or "dolphin," for the flower bud's resemblance to a leaping dolphin. Both have large, deeply sectioned leaves which cluster at the base of the plants.
Despite being frequently mislabeled and confused for each other—even by experts—the two plants do have differences; enough difference that Larkspur was recently reclassified out of the delphinium family into its own species. The most important difference for floral designers is that larkspur comes in a wider array of colors, while delphinium's palette is largely confined to blues and whites. Larkspur is also an annual while delphinium is a perennial, and though they look nearly the same, delphinium has separated sepals while larkspur has some conjoined ones.
There are about 40 species of larkspur and 300 of delphinium, but most of the cultivars in the floral trade are hybridized from about half a dozen of them.
Both can be dried (larkspur more easily than delphinium), and both shrivel at the merest whisper of ethylene. Some cultivars have a light fragrance.
Colors: Both species bloom in whites, blues, purples and pinks; larkspur also has yellows, oranges, reds and maroons. Some of the only large flowers with a natural true blue color.
Special Care
Purchase larkspur and delphiniums only from sources that reliably pre-treat to protect them from ethylene. Choose stems with a third or more of the flowers in bloom. Recut the stems and put them in a floral with a preservative, anti-ethylene agent and sugar. Researchers have discovered that mannitol is the sugar that keeps delphiniums perky and fortified against ethylene longest, though they will benefit from standard sugar solutions too. Don't forget to add a bacteriacide, to keep microbial growth from sliming the stems and contaminating the water.
The plants and their sap are toxic, so take care when handling and be sure to wash up afterward.
Even with the best floral hygiene these flowers are short-lived, so keep them cold (37 - 41°F / 3 - 5°C) and don't store them for more than a day or two. They are geotropic and will bend toward the light, so store them upright to keep them from twisting.
Fun Facts:
Don't eat them! These flowers belong to the infamously toxic buttercup family. They secrete delphinine, an alkaloid similar to monkshood's aconitine, "the queen of poisons." Ingestion causes the whole digestive tract to go into panic-and-purge mode, and it can slow or stop lungs and heart. Fortunately, history shows that larkspur and delphinium almost never appeal to humans for consumption, even in folk remedies…though every so often some unlucky cows come across a patch of them in a pasture and munch their unintended last meal.

Larkspur's big, frondy leaves and fibrous stalks were once used as a wound dressing, which inspired the genus' name, Consolida, from the Latin word meaning "consolidate," or "make firm."

Native Americans and European settlers made dye and ink from the blue delphinium blossoms.

The flowers decorated mummies in ancient Egypt.

Delphinium is the birth month flower for July.

Larkspur and delphinium are among the top selling florist flowers worldwide.

A member of the gorgeous-but-deadly Ranunculaceae (buttercup) family, related to columbine, goldenseal, wolfsbane (monkshood), and buttercups as well.
Common Name
larkspur, rocket larkspur; delphinium
Botanical Name
Consolida ajacis; Delphinium elatum
Pronunciation
kon-SOH-lih-dah ah-JAY-sis; del-FIH-nee-um eh-LAY-tu
Origin
Seasonal availability
Year Round
JAN
F
M
A
M
J
J
A
S
O
N
DEC