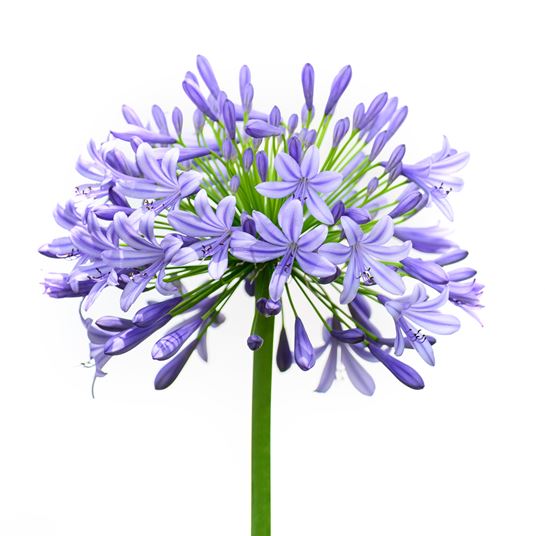 AGAPANTHUS
Agapanthus africanus
ag-uh-PAN-thus af-ruh-KAN-us
Description
Celebrated for their striking, linear dimension and romantic appeal, Agapanthus species—also known as "flowers of love" in Greek—are hardy perennials that are available in various shades of blue, white and pink. The plants' cultivation boomed in the 17th century, after early explorers brought Agapanthus to Europe from their native homeland of South Africa. Since then, the species has propagated in areas around the globe, serving as highly-beloved ornamental flowers—likely due to their showy, spherical flowering heads.
A member of the Amaryllidaceae family, Agapanthus has approximately 10 species under its genus. Numerous cultivars and hybrids utilized today are derived from the A. africanus and A. praecox species, which are generally encountered in blue or white tones. Some well-known cultivars include 'Albus' and 'Albus Nanus' (white florets), 'Sapphire' (dark blue florets), 'Variegatus' (leaves striped with silver tones), 'Plenus' (double florets), 'Maximus Albus' (white florets) and 'Blue Giant' (blue florets). Regardless of type, the flowers' most notable assets are their tall, elegant stalks and globular umbels that bloom to reveal brightly colored, trumpet-shaped florets. Upon closer inspection, these flowers resemble lilies in shape, hence the plants' common names of African lily, blue lily and lily of the Nile. But don't let these names fool you; Agapanthus is actually a closer relative to garlic and daffodils than it is to a lily.
An evergreen perennial, Agapanthus features strong and lengthy stems, typically growing between 40–75 cm in height. Its stalks bear 8–16 cm globe-shaped clusters of smaller, 2–4 cm tubular florets, which open slowly across three to four days. Each cluster contains about 40–100 flowers that are waxy to the touch and without any fragrance. Agapanthus leaves are usually deep green in color but can also be found in gray green to medium green hues. Some species also produce thick, strap-shaped foliage, while others have thin, grass-like leaves.
In design projects, Agapanthus serves as a versatile cut flower, especially as a filler. Given their strong, linear appeal and dramatic flower heads, its stems offer a bold—yet airy—touch to spring and summer design projects. In many parts of the world, Agapanthus flowers have also become favored garden plants, fitting extremely well in containers and mixed borers alike.
Colors: Blue, lavender, lilac, pink, white
Special Care
Select strong, straight stems with tightly clustered flowering heads. The florets should also show good color. Avoid stems with lesions or soft spots.
Immediately upon receipt, cut and hydrate the stems. When processing, any strip foliage that falls below the water line. The stems should be cut about 2.5 cm from the base (at a 45-degree angle) and hydrated in room temperature water (with a commercial floral preservative) for at least two hours before storage or use in floral work. Agapanthus flowers are also extremely sensitive to ethylene; exposure to the gas will cause premature flower loss, so an anti-ethylene agent should be added to the hydrating solution in use.
Stems can be stored in a 39–41°F (4–5°C) cooler at 80–90% humidity. Temperatures below this range may cause the flowers to turn a reddish color.
Fun Facts:
The genus name Agapanthus is derived from the Greek words "agape" (meaning love) and "anthos" (meaning flower).

Contrary to its common names, African lily and lily of the Nile, Agapanthus flowers are not lilies! A member of the Amaryllidaceae (Amaryllis) family, Agapanthus is actually related to garlic, Galanthus and Narcissus.

The first Agapanthus plants were brought to Europe from South Africa, its country of origin, in the 17th century. Since then, its propagation has spread to other parts of the globe, including Europe, Asia and the U.S. Today, over 600 commercially available Agapanthus cultivars and hybrids exist, with most of them showcasing flowers in blue or white shades.

The first species of the genus to reach the U.S. was A. africanus.

In South African culture, Agapanthus was appreciated both as a medicinal plant and as an aphrodisiac. Some species were used to treat coughs and colds, along with chest pains and various heart-related conditions. Its flowers were also worn by women to encourage fertility and good health during pregnancy.

Many modern herbalists use Agapanthus flower essence to promote a sense of abundance and aspiring to one's true potential.

For those with skin sensitivities, you may want to handle Agapanthus with caution! Agapanthus can cause skin irritations, including dermatitis. It is also poisonous when ingested, so avoid eating it.

Some species of Agapanthus have been classified as invasive. In New Zealand, for example, A. praecox is listed as an environmental weed.

Agapanthus plants, like those of A. praecox, can grow upwards of six feet in height!

Given the meaning of its genus name, Agapanthus is often used to symbolize love. It has also been seen as an emblem of beauty, purity and fertility.
Common Name
African lily, blue lily, lily of the Nile
Botanical Name
Agapanthus africanus
Pronunciation
ag-uh-PAN-thus af-ruh-KAN-us
Origin
Seasonal availability
JAN
F
M
A
M
J
J
A
S
O
N
DEC
Dryable
Yes* (Agapanthus may be dried with a desiccant such as silica gel.)
Language of Flowers Meaning
Agapanthus is a symbol of love, purity, beauty and fertility.