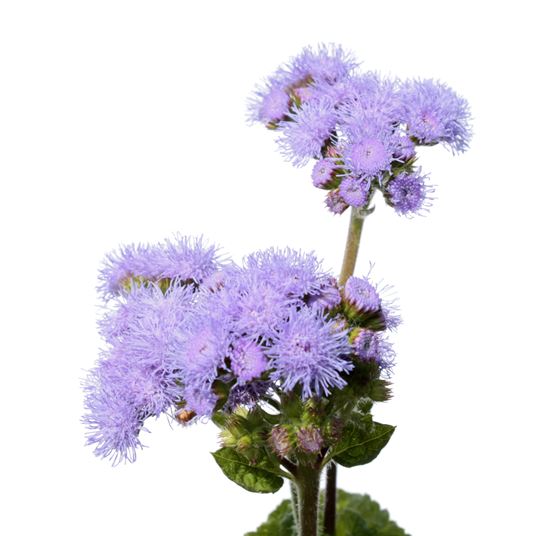 AGERATUM
Ageratum houstonianum
ah-juh-RAH-tum hyoo-stoh-nee-AH-num
Description
Long a favorite bedding plant, Ageratum is now gaining popularity as a cut flower because of its pompom-like flower heads and broad, deep green foliage. Flower heads are grouped in loose clusters on stems about 28" (70 cm) long.
Colors: Pink, blue, violet, white
Special Care
Compounds in the plant may cause skin irritation, so wear gloves while handing and avoid direct contact.
The blossoms don't last long even with floral preservative treatment, so finding a local source is a good idea.
Fun Facts:
Ageratum is used for making perfume.

Gardeners recommend planting Ageratum as a mosquito deterrent. It secretes coumarin, which mosquitoes can't stand, and is even used in commercial mosquito repellants.

Although they fade fast once cut, the flowers are long-lasting and retain their color while on the plant. That's the possible meaning behind the plant's Greek-based botanical name: "a" (meaning not) and "geras" (meaning old age).

Useful as a filler in floral arrangements, adding color and texture to showcase more dramatic flowers.

A member of the Asteraceae/Compositeae (daisy) family, Ageratum is related to sunflowers, artichokes and dandelions.
Common Name
floss flower, flossflower, blue mink
Botanical Name
Ageratum houstonianum
Pronunciation
ah-juh-RAH-tum hyoo-stoh-nee-AH-num
Origin
Seasonal availability
JAN
F
M
A
M
J
J
A
S
O
N
DEC
Dryable
Yes* (Flower heads may be dried, but their colors will fade. )
Language of Flowers Meaning
Ageratum is used to symbolize politeness.