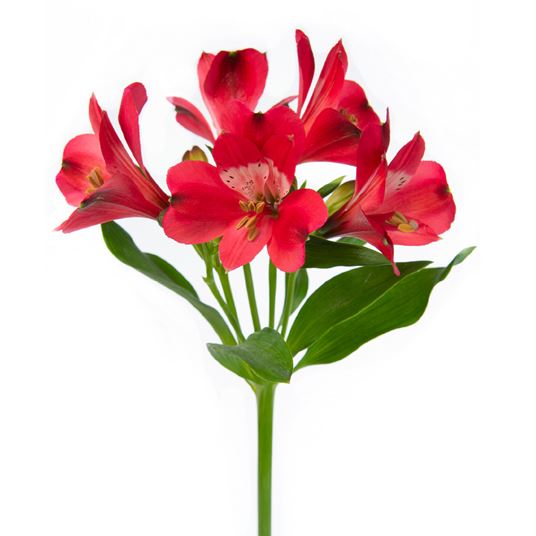 ALSTROEMERIA
Alstroemeria cultivars
al-stroh-MEE-ree-uh
Description
Alstroemeria is often mistaken for miniature lilies; its trumpet-shaped blossoms each have three true petals and three matching sepals, giving the appearance of a six-petaled blossom. Together, these matching sets are called tepals.
The 1–2" (2.5–5 cm) flowers bloom on individual branchlets, grouped along the tops of smooth, 18–30" (46–75 cm) stems. The scattered, pointed leaves have an unusual habit of twisting as they grow, so that the tops of the leaves face downward. Unlike true lilies, Alstroemeria blossoms have no fragrance and their pollen does not stain.
Colors: A wide range including reds, pinks, oranges, bronzes, yellows/greens, purples and ivories. Colors may be solid or bicolor, and the inner petals may have streaks or speckles of one or more additional hues.
Special Care
Alstroemeria are quite ethylene sensitive and their foliage yellows rapidly, so it's important to use pretreatments specially formulated for them. After pretreating, use flower foods that are low-"dose" (sugar) or made for cut bulb flowers, to extend color and vibrancy of the leaves as well as flowers. They are also susceptible to fluoride damage, so avoid using highly fluoridated water.
Remove the buds from the base of each stem's first open blossom, to encourage flowering of the other blossoms and to prolong vase life.
Tulipalin is a toxin in Alstroemeria which can cause a poison ivy-like rash in sensitive people. Repeated exposure can build sensitivity even in those with no initial reactions, so it's best to handle Alstroemeria with plastic gloves and wash up thoroughly after handling the flowers.
Eating any part of the plant can cause the same reaction on the inside of the body, so keep it away from pets and kids. While true lilies can be deadly to cats, consuming Alstroemeria is not life-threatening. However, it may sting the mouth and nauseate the stomach, so precautions are still advisable.
Fun Facts:
One of the best-selling flowers worldwide, grown in every country that produces florist flowers.

When harvesting Alstroemeria for sale, growers do not cut the soft, fragile stems. Instead they pull them out of the rhizome, which in turn stimulates new growth and flowering for the next season.

Swedish super-scientist Carl Linneaus was the first European to study the plant. One of his student researchers, Baron Clas Aströmer, went on a botanical discovery tour through southern Europe and brought rhizomes back to Linneaus from Spain in 1753. In appreciation for the legwork and the discovery, Linneaus named the plant aströmeria (Alstroemeria) after his student. Aströmer went on to become a noted scientist himself.

Alstroemeria owes a good deal of its popularity to its versatility. It is at home in traditional arrangements, showcased or massed, and its seemingly limitless variety of colors make it perfect for a subtle complement or a "pop" of contrast.

A member of the Amaryllidaceae (Amaryllis) family, related to onions, daffodils and Agapanthus species.
Common Name
Inca lily, parrot lily, Peruvian lily, ulster Mary
Botanical Name
Alstroemeria cultivars
Pronunciation
al-stroh-MEE-ree-uh
Origin
Seasonal availability
Year Round
JAN
F
M
A
M
J
J
A
S
O
N
DEC
Language of Flowers Meaning
Alstroemeria flowers are used to symbolize love, friendship, support and devotion.