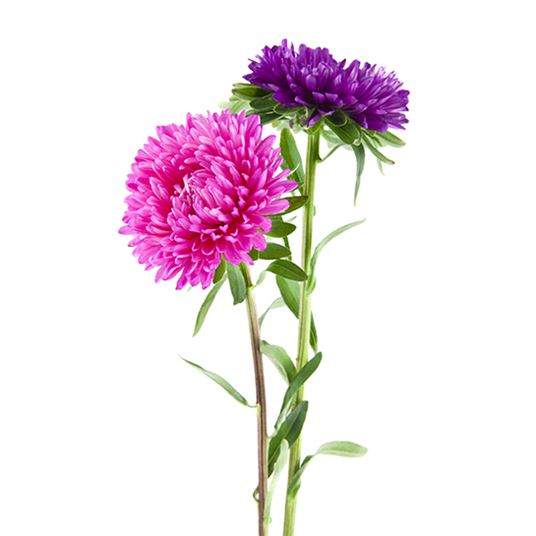 ASTER
Aster species
a-ster
Description
True to its genus name, Aster plants are star-shaped perennial herbs known for their historic roots and incredibly diverse array of varieties. Named after the Greek word "astér" meaning star, the origins of the Aster can be traced back to ancient Greece, where the plant was regarded as an "enchanted flower" and used to pay tribute to the gods. One popular Greek myth attributes its creation with the goddess Astraea (or Virgo), while others identify the plant as an emblem of the goddess Venus. Given their rich symbolism and delicate beauty, Aster plants have become one of the most marketable cut flowers used by florists today.
Before the use of modern, molecular analysis methods, there were over 600 Aster species identified within the genus. According to updated classifications, however, there are now only about 180 species registered as true Aster plants. The Aster is native to North America, particularly the Northeastern U.S., but can also be found in South America, Europe and Asia.
In ancient times, wild plants were originally popularized for their medicinal and spiritual applications; many claimed burning Aster leaves could drive away evil snakes and spirits. Additionally, Aster roots were a staple ingredient in traditional Chinese medicine, and Native Americans used its flowers and leaves as a food source and healing agent. When combined with bloodroot and other plants, Aster plants served as an effective laxative! Today, they make exceptional cut flowers, particularly for use as a filler, given their multi-branched flowering stems and desirable colors. Whole plants are also commonly found in home gardens, although they are notorious late bloomers. This characteristic gave light to the common name Michaelmas daisy, in honor of the Christian festival Michaelmas, which is observed each year on September 29th. Their late bloom time also makes them a popular filler in fall and winter season bouquets and arrangements.
Aster plants are a member of the Asteraceae family, meaning their common relatives include sunflowers, daisies, Chrysanthemums and marigolds. For this reason, their saucer-shaped blossoms are actually composite blooms, made up of an assortment of tiny tubular flowers grouped together around a central disk. Most species known among florists and gardeners are perennials, but a few are cultivated as annuals and biennials.
Aster stems typically grow up to 101 cm in height and feature complex, branched stems that bear numerous flowers, typically up to 2.5 cm in diameter. As previously mentioned, each flower head is a composite of tiny ray florets (or "petals") that fan out from a central disk. In the case of the Aster, the central disk flowers are often a different color than the ray florets. Most Aster plants also feature a slightly woody base with simple, dark-green foliage that is often slender and pointed in shape.
The two main groups of Aster plants that account for some of the most popular perennial cultivars are: New England asters (Aster novae-angliae) and New York asters (Aster novi-belgii). Both New England and New York asters are native to North America and thrive in a variety of growing environments. New England asters typically feature fuller, more sparsely-spaced blooms and thick, woody stems. These qualities make New England asters work well as cut flowers. New York asters, conversely, have smooth leaves, thinner stems and bushier plants. Their more compact nature and long bloom times make New York asters excellent garden plants. New England asters are also typically taller and have a longer vase life than New York asters. In terms of color availability, New York asters come in a variety of cool tones ranging from blue and violet to white and pink. New England cultivars feature these cooler tones, along with shades of terracotta and other reds. Regardless of type, New York and New England asters are known for their ease of cultivation and low maintenance qualities. Today, the best known Aster cultivar (until recently) has been 'Monte Cassino' (heath asters), while other hybrids involve crosses between heath asters, New York asters and New England asters.
Some popular varieties of New York asters include: 'Eventide' (purple flowers), 'Winston Churchill' and 'Crimson Brocade' (red flowers), 'Patricia Ballard' (pink flowers) and 'Boningale White' (white flowers). Popular New England asters include: 'Red Star' (red flowers), 'Treasurer' and 'Purple Dome' (purple flowers) and 'Honeysong Pink' (pink bi-color flowers).
Given their complex shape and diverse color options, Aster plants make excellent filler or focal flowers in seasonal and special occasion arrangements. As late-blooming plants, they've become incredibly popular in fall and winter floral decor. It should come to no surprise, then, that the Aster is the official birth flower for September babies. Also, since Victorian times, Aster flowers have been used to convey feelings of lasting love and devotion, and symbolize purity, wisdom and achievement. For these reasons, they can be the protagonist for celebrating different life moments, including engagements, weddings, anniversaries, graduations and baby showers. Aster flowers are also commonly found in graveside floral displays. This stems from a traditional use in French culture, where Aster bouquets (symbolizing remembrance) were laid on the graves of fallen French soldiers.
Colors: White, pink, red, purple, blue
Special Care
Select stems with about one-third of their florets open. Do not use stems with dry florets or brown or yellow spots on the foliage. Also avoid prematurely harvested Aster plants, as they may not open properly. For potted plants, select ones featuring 25–45% of their florets open.
When processing, strip foliage that falls below the water line. Recut the stems about 2.5cm at an angle (45-degrees) and hydrate them in water mixed with a commercial floral preservative (with added sugar and a germicide agent) for at least two hours before storage or use in floral work. Although not required, stems can be recut under running water or in a bowl of clean water. Cutting under water may reduce the risk of air pockets forming at the stems' base and allows the flowers to absorb water right away. Also, be cautious of the amount of sugar used in the floral preservative of your choosing. In some Aster species, too much sugar exposure can cause its foliage to yellow. Aster leaves will often wilt or die before the flowers, making hydration particularly important. Stems can be stored for up to four days at 32–39ºF (0–3.9ºC) with 80–90% humidity.
Arrangements with Aster flowers should be kept in a cool place away from direct sunlight.
Fun Facts:
The genus is named after the Greek word meaning star. The name is fitting given the flower's star-like shape.

The Aster has a rich, deeply rooted presence in Greek mythology. They were believed to be sacred plants, used in decorative wreaths and altar displays to honor the gods. Legends also proclaim that the Aster comes from a myth involving Astraea (goddess of justice and purity). One day, Astraea, also known as Virgo or the Star Maiden, was so upset by how few stars there were in the dark sky that she began to weep. As her tears fell to the earth, they turned into star-shaped flowers—the Aster. Aster flowers were also an emblem of Venus, the goddess of love and desire.

Before the use of modern, molecular analysis methods, there were over 600 species identified within the genus. According to updated classifications, however, there are now only 180 species registered as true Aster plants.

Aster plants belong to the order Asterales, meaning they are also related to sunflowers, daisies, Chrysanthemums and marigolds.

There are two main groups of Aster plants: New England asters (Aster novae-angliae) and New York asters (Aster novi-belgii). New England asters tend to be taller (growing to be 3-4' tall) while New York asters are shorter (growing to 2' in height). The perennials within each group are quite commonly featured in home gardens, although they are usually to last to bloom. New England asters also tend to have a longer vase than New York asters.

Among other perennials, Aster plants are some of the easiest to cultivate. They also make up one of the top cut flower groups used by florists today.

Until recently, the best known cultivar of the genus is the 'Monte Casino' series. Another important Aster in the cut flower trade is Callistephus chinensis (Chinese Aster).

Because of their late bloom time (in late summer and early fall), some Aster flowers are referred to as Michaelmas daisies. Michaelmas, a Christian festival, is observed each year on September 29th. Their late bloom also makes them a popular cut flower in fall bouquets and arrangements. Many florists frequently call Aster flowers frost flowers, given their recurring use in autumn and winter arrangements.

One of the most celebrated figures in American poetry, Robert Frost, mentioned Aster flowers in his poem "A Late Walk" and used them as a symbol of hope amidst dreary or somber times.

According to ancient folklore, burning Aster leaves released a smoke that could drive away serpents and evil spirits. With their beauty and fantastic texture, they have also been regarded as enchanting flowers for thousands of years; English and German legends even stated they held magical powers!

In French culture, Aster flowers were often laid on the graves of fallen soldiers to represent the wish that "things would have turned out differently" for the deceased individual.

Some Aster species have been used in herbal and Chinese medicines to treat colds, migraines and venereal diseases.

Although not commonly consumed today, Aster plants are a food source. Native Americans used their roots in soups, and fresh leaves were used like modern-day greens.

Some Aster varieties have seeds that look like miniature parachutes, which are carried and spread by the wind.

The Mediterranean artichoke has connections to the Aster; they are both members of the Asteraceae family.

The Aster is the birth flower for September. It is also used for celebrating 20th wedding anniversaries.

By far, the most popular Aster color is purple. Purple typically represents wisdom and devotion, and has long been used to denote royalty. If you want to make a loved one feel like a king or queen, give them a bunch decorated with purple Aster flowers!

Aster flowers typically symbolize powerful love, elegance, patience and remembrance. With their vast range of symbolic meanings and color availability, they are a popular choice among florists for use in weddings, special occasions and funeral work.
Common Name
Monte Cassino, Michaelmas daisy, September flower, starwort, frost flower
Botanical Name
Aster species
Origin
Seasonal availability
Year Round
JAN
F
M
A
M
J
J
A
S
O
N
DEC
Language of Flowers Meaning
Asters typically symbolize powerful love, elegance, patience and remembrance.