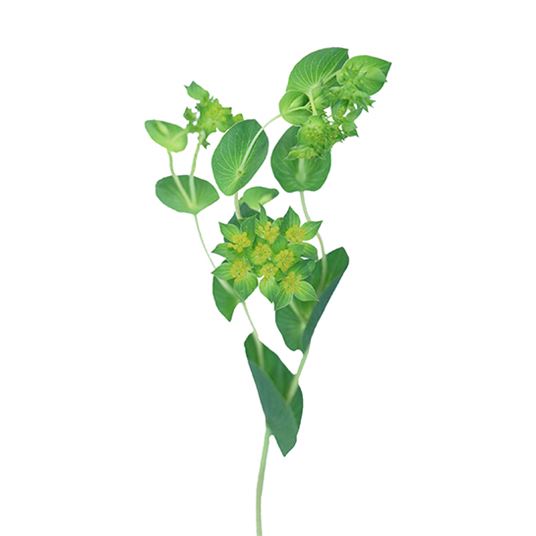 BUPLEURUM
Bupleurum rotundifolium
boo-PLUR-rum ro-tun-dih-FOH-lee-um
Description
A popular flowering plant with origins in Central Asia and Southern Europe, Bupleurum is a hardy annual (or short-lived perennial) herb that is closely related to fennel, dill and other umbel-forming plants. In ancient China and Europe, Bupleurum was prized in herbal medicines and used to treat a multitude of respiratory infections, digestive issues and other ailments. Today, it is primarily used for ornamental purposes and is commonly featured in seasonal arrangements and bridal bouquets.
A member of the Apiaceae family, the genus is composed of about 200 species of herbaceous perennials and woody shrubbery; these serve predominantly as decorative fillers or garden shrubs. The plant's most notable quality is its foliage, which is perfoliate—meaning its leaves (measuring about 2.5–5 cm) completely circle the stem. The leaves are also typically blue-green in color. This perfoliate characteristic explains the common name thoroughwax, or thorow wax. Its leaves are also well-veined and when young, may be flushed with a red tint.
Its well-branched stems can reach 45–91 cm in height, and feature small, yellow florets contained within yellow-green bracts. This structural quality provides great volume and texture, making Bupleurum a popular filler flower among floral creatives. With its expansive flowering stems and vibrant, cheery green hue, Bupleurum will add charm and interest to any floral design recipe, no matter the season.
Colors: Green
Special Care
Select strong stems with clean, bright green foliage and well spread out, colorful blooms; eighty to ninety percent of its flowers should be open. Also purchase stems with half of their flowers fully blossomed.
Bupleurum stems tend to tangle easily, so exercise caution when pulling stems apart. It's recommended to turn them upside down first and then shake them gently to loosen the stems.
Under standard processing techniques, remove any foliage that is touching or below the waterline. Recut the stems about 2.5 cm at an angle (45-degrees) and hydrate them in water mixed with a commercial floral preservative for at least two hours before storage or use in floral work. Although not required, stems can be recut under running water or in a bowl of clean water. Cutting under water may reduce the risk of air pockets forming at the stems' base and allows the flowers to absorb water right away.
Stems can be stored for three to four days at 33–39ºF (0.6–3.9ºC) and at 90–95% relative humidity.
Fun Facts:
The genus consists of approximately 200 species of plants.

Its genus name comes from the Greek word "boupleurs" meaning oxen rib.

Its leaves surround its stems, so the common name thoroughwax is derived from "throw-wax" (through-grow).

With its bright-green foliage and small clusters of yellow blooms topping its multi-branched stems, Bupleurum is a favorite among floral artisans as a filler flower. It adds wonderful texture to and refreshing color to spring and summer arrangements.

Bupleurum roots have been used in traditional Chinese medicine for thousands of years as a remedy for respiratory infections, fevers, fatigue and digestive issues.

The Chinese name for Bupleurum "chai hu" means kindling of the barbarians.

Bupleurum is closely related to fennell, dill and other umbel-forming plants.
Common Name
sickle-leaved hare's-ear, thorow wax, thoroughwax, Chinese thoroughwax, hare's ear, sickle hare's ear, sickle-leaf hare's ear
Botanical Name
Bupleurum rotundifolium
Pronunciation
boo-PLUR-rum ro-tun-dih-FOH-lee-um
Origin
Seasonal availability
Year Round
JAN
F
M
A
M
J
J
A
S
O
N
DEC