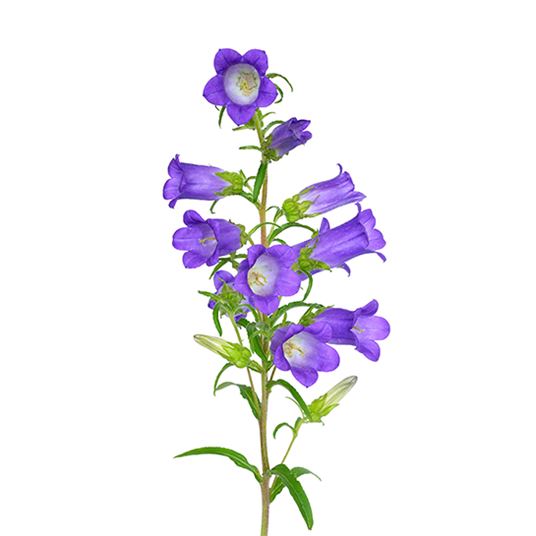 CAMPANULA
Campanula medium
kam-PAN-yew-lah MEED-ee-um
Description
For centuries, this exquisite, bell-shaped beauty has stolen the hearts of growers and floral artisans across the world. A native to temperate regions of the Mediterranean, Africa, and Northern and Western Asia, Campanula (also known as bellflower or Canterbury bells) has origins in picturesque country gardens and serene meadows.
A member of the Campanulaceae family, the genus consists of about 500 species of annual, biennial and perennial plants available in an assortment of sizes and colors. Today, Campanula cultivars are most commonly used as garden ornamentals or cut flowers. A number of species have also been featured in traditional herbal medicine and used as a food source.
The most notable characteristic of Campanula species are their tubular, bell-shaped flowers, hence the common name bellflower (or bell flower). These 2.5–5 cm long flowers are loosely clustered at the stems' end and found in blue and purple hues; they may also be available in shades of white and pink. The flowers are generally not fragrant and bloom with five petals. Campanula stems feature dark green foliage and can grow anywhere from a few inches to a few feet. On average, they typically reach 45–60 cm in length. Some species, like Campanula americana (commonly known as tall bellflower) often grow flowering spikes that can reach 183 cm in height!
Popular Campanula cultivars include: Campanula medium 'Bells of Holland' (pink, purple, or white flowers), Campanula medium 'Campion Pink' (pink flowers), Campanula medium 'Dwarf Bella Mix' (blue, lilac, pink, or white flowers) and Campanula medium 'Double Melton Mix' (double-bloomed flowers in dark pink, light pink, or purple).
Colors: White, purple, blue, pink
Special Care
Select stems that have the top two-thirds of their flowers still in buds. Avoid any stems with broken tips, discolored foliage or signs of disease.
Under standard processing techniques, remove any foliage that is touching or below the waterline. Recut the stems about 2.5 cm at an angle (45-degrees) and hydrate them in water mixed with a commercial floral preservative (with sugar and an anti-ethylene agent) for at least two hours before storage or use in floral work. Although not required, stems can be recut under running water or in a bowl of clean water. Cutting under water may reduce the risk of air pockets forming at the stems' base and allows the flowers to absorb water right away. Also, to prevent from damaging any of its flowers, do not crowd too many stems in a bucket or vase.
Stems can be stored for one week (in water or dry) in a 36ºF (2.2ºC) cooler with proper air circulation; although, dry storage is probably more effective at temperatures close to 32°F (0ºC). Longer storage periods (of up to three weeks in water or up to two weeks dry) typically result in a shorter vase life.
Campanula is known as a soft-stemmed flower, so it is quite vulnerable to botrytis and other diseases. Also avoid contact with ethylene, as its flowers are sensitive to the gas and can shrivel up when exposed.
Fun Facts:
The genus name is derived from the Latin word "campana" meaning bell. This perfectly describes the plant's bell-shaped blossoms, which typically flourish during late spring and summer.

The genus consists of approximately 500 species and subspecies; these include annual, biennial or perennial plants available in an assortment of sizes and colors.

Florists and home gardeners alike love Campanula not only for its color and whimsical form, but also because of its low maintenance nature. It's a hardy perennial that can tolerate extreme weather conditions and does not require much floral expertise for its upkeep.

Especially in Europe, Campanula has been used historically in folk medicine and as a food source. Its leaves are edible and its roots can be consumed raw or cooked. The most popular species cultivated for its edible root is Campanula rapunculus.

Fleuroselect, an international organization for the ornamental plants industry, awarded the Champion Series (which are Campanula medium varieties) with a Gold Medal during Fleuroselect's first Cut Flower Trials in 2000.

Rapunzel, a childhood favorite character with origins in the Brothers Grimm fairy tale by the same name, was named after Campanula rapunculus. After being stolen by a sorceress as a baby, she was named "Rapunzel" after the plant that Rapunzel's mother had so desperately craved during her pregnancy.

Campanula has ties to ancient Greek mythology with stories of Venus, the goddess of love and beauty.

Campanula is typically used to express feelings of gratitude, humility and everlasting love. In some cultures, it is associated with death and therefore used in graveside arrangements and potted displays.
Common Name
bellflower, bell flower, chimney bells, Canterbury bells
Botanical Name
Campanula medium
Pronunciation
kam-PAN-yew-lah MEED-ee-um
Origin
Seasonal availability
JAN
F
M
A
M
J
J
A
S
O
N
DEC
Language of Flowers Meaning
Campanula is typically used to express feelings of gratitude, humility and everlasting love.