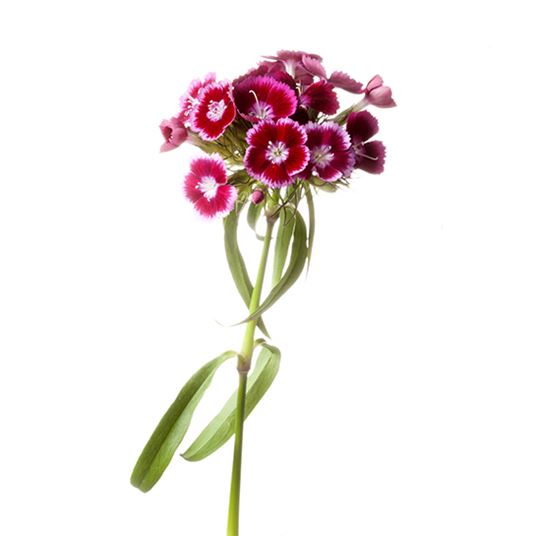 DIANTHUS
Dianthus barbatus
die-ANTH-us bar-BAY-tus
Description
You may already be familiar with the world's most famous Dianthus species, Dianthus caryophyllus (aka carnation), which is also featured on its own Flower.Style fact page here. So, we'd like to introduce you to another Dianthus species (Dianthus barbatus) that may be lesser-known, but is no less captivating than the oh-so popular carnation.
Dainty Dianthus, also known as Sweet William or pinks, is the archetypal garden flower. This perennial is available in an array of sizes and colors, but may also be cultivated as a hardy annual or biennial. The versatility and ease of care of this flowering plant has made Dianthus an attractive ornamental flower among florists and gardeners alike. Its historical roots are also quite noteworthy; Dianthus is one of the oldest documented cut flowers to date. Did you know that in Greek, Dianthus means flower of the gods? This is a fitting name given by famed Greek botanist, Theophrastus, who considered the plant to be divine. Thousands of years ago in ancient Greece, Dianthus flowers were used to make ceremonial crowns, and since then, they have inspired artists and other historical figures with their beauty and practical uses. With its rich history deeply embedded in symbolism, it's no wonder that Dianthus has been and will be treasured for centuries to come.
Dianthus has origins in Southern Europe and Asia and is a member of the Caryophyllaceae family with about 300 species under its genus. Most hybrids of Dianthus barbatus have been bred for the potted plants industries, so their stems are usually too short to be used as cut flowers. This is most likely why carnation cultivars, who have longer and stiffer stems, are typically favored as cut flowers by floral designers.
Historically, Dianthus plants have been used for their medicinal properties, serving well in tonics to treat fevers, alleviate stomach issues and reduce chest congestion. Some species (including carnations) are a great source of essential oils and can be used to treat symptoms of stress and depression. Many varieties have also been consumed as a food source and brewed into teas. Today, Dianthus is most prized for ornamental reasons, and can be found decorating home gardens and floral arrangements across the globe. In the U.S., the carnation has become the official flower for Mother's Day celebrations and is an attractive wedding flower for brides. It is also the state flower of Ohio and the birth flower for January babies.
Dianthus perennials typically grow to 60–92 cm in height and feature slender, pointed leaves that are spread across their blue-green stems. Its starry flowers (either in single, double or semi-double blooms) emerge in dense clusters at the tips of its stalks and come in many unique patterns and colors, including pink, purple, red, white or bi-color tones. Its great availability in the color pink also explains the common name of pinks; or, it can reference the fringed look of its petals (in old English, the word "pink" meant to decorate with a perforated or punched pattern). Aside from their colors and unique shape, Dianthus flowers are also known for their strong and spicy fragrance; some cultivars are said to resemble the scent of cloves or cinnamon.
With its abundant blooms, novel texture, mesmerizing colors and rich symbolism, Dianthus remains a superb filler or focal flower for use in all kinds of design work. In the language of flowers, Dianthus is an emblem of passion, affection, love and gratitude. This makes it an ideal element in Mother's Day and Valentine's Day arrangements, along with wedding bouquets and centerpieces.
Colors: White, pink, magenta, red, burgundy, purple, lavender, bi-colors
Special Care
Select straight stems that have between ten to thirty percent of its flowers open and good-colored foliage that is free of damage or disease. For potted plants, select stems with few open flowers because they typically do not last well.
Recut the stems about 2.5 cm at an angle (45-degrees) and hydrate them in room temperature water mixed with a commercial floral preservative (with an anti-ethylene agent) for at least two hours before storage or use in floral work. Strip any foliage that falls below the water line. Although not required, stems can be recut under running water or in a bowl of clean water. Cutting under water may reduce the risk of air pockets forming at the stems' base and allows the flowers to absorb water right away. Also avoid contact with ethylene, as Dianthus flowers are sensitive to the gas. When exposed, it can cause premature flower wilting (also known as "sleepiness"), petal browning and arrested blooming in buds. Stems can be stored for up to five days at 34–36ºF (1.1–2.2ºC). Flowering pots require cool temperatures and good light exposure. In this setting, make sure to not over-water them.
Fungal diseases are common among Dianthus barbatus hybrids; plants are especially susceptible if their foliage and flowers are harvested when wet.
Fun Facts:
The name Dianthus is derived from the Greek words "dios" (meaning god) and "anthos" (meaning flower). In fact, Dianthus has been treasured for centuries; they are one of the oldest known cut flowers, prized for their ease of cultivation, long-lasting freshness, fragrance and practical uses. With its rich history, no wonder it's regarded as the flower of the gods!

Dianthus is typically used to symbolize feelings of love, affection, gratitude and admiration.

The plant's epithet means bearded, and sources believe that this name refers to the beard-like growth found at each flower's center. This growth, however, is most often the plant's stamen.

Some references believe that the common name Sweet William was given in honor of William Shakespeare. Others say that the name comes from the French word meaning eye, in reference to the contrasting colors often found on the flower's center. In English, this later transformed to Willy and then William.

The color pink may very well be named after Dianthus! As a verb, the word pink dates back to the 14th century and means to decorate with a perforated or punched pattern. This adeptly references the frilled edges typically seen on Dianthus blossoms.

Most Dianthus barbatus hybrids have been bred for the pot plant industries, so they typically feature stems that are very short (too short for the cut flower industry).

The most well-known Dianthus flower is the carnation. The plant was first cultivated in the 15th century by the Moors in Valencia, Spain and was later introduced as a florist flower in Europe in the 17th and 18th centuries. Since then, it has become an international sensation and is often the flower-of-choice for celebrating a variety of special events: weddings, Mother's Day, January birthdays and 1st wedding anniversaries, to name a few. Carnations are also the state flower of Ohio.

Dianthus flowers are edible, and can be used in a variety of common dishes. Its plants have also been used in traditional Chinese medicine as a diuretic to treat urinary tract infections.

Add a touch of spice to your next arrangement with Dianthus—quite literally! It is known for its strong, spicy-sweet scent that resembles the fragrance of cloves or cinnamon.

With their unique scent, Dianthus flowers are used as a source of essential oil. This oil is most often found in perfumes and can provide stress relieving, anti-inflammatory benefits to those who use it.

Common relatives of Dianthus include baby's breath, catchflies, chickweed and snow-in-summer.

As an easy-to-grow, low maintenance plant, Dianthus is cherished among home growers. They also attract butterflies, hummingbirds and are bee-friendly.
Common Name
pinks, Sweet William
Botanical Name
Dianthus barbatus
Pronunciation
die-ANTH-us bar-BAY-tus
Origin
Seasonal availability
Year Round
JAN
F
M
A
M
J
J
A
S
O
N
DEC