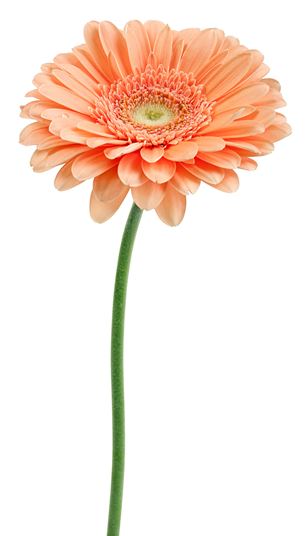 GERBERA
Gerbera jamesonii
GUR-buh-rah jaym-SO-nee-eye
Description
Like all members of the sunflower family, Gerberas' bright, saucer-shaped blossoms are actually composite blooms, made up of more than one type of flower. Its "petals" are ray florets, the center (eye) holds disc florets, and the fuzzy ring in between both is made of trans florets. Also like their sunflower cousins, Gerbera plants are phototropic and will turn their heads toward the light.
More than 300 hybridized cultivars are grown today, including single, double and spider, with more variations coming onto the market all the time. Currently, there are three sizes of Gerbera available: mini, standard and giant. All grow from a rosette of serrated leaves, on hollow, fuzzy stems which vary in height from 6–24" (15–60 cm). Blossom diameters range from 2–3" (5–7.5 cm) for "germinis" to 3–5" (7.5–13 cm) for standard gerberas and 5–6" (13–15 cm) for giant. Flowers have no fragrance and are sensitive to fluouride, but not to ethylene.
Colors: Ray and trans florets may be any color under the sun, except true blue and blue-purples. Center disc florets may be black, brown, maroon, red, yellow or green.
Special Care
Cleanliness is imperative in caring for Gerbera plants. They are easily infected by microbes—especially the fungus botrytis—which cause stem block and prevent water uptake. Keep the work station clean and dry, sanitizing all buckets and storage containers daily. Use a solution with a biocide (antimicrobial agent) in addition to flower food, and change the solution daily as well. Fluoride causes petal tip burn in some cultivars, so make the nutrient solution with nonfluoridated water.
The hollow scapes (stems) are fragile and even more prone to evaporation than the blossoms, so handle them with extreme care. They may flop over and crease a few inches below the blossom, which also disrupts hydration and ruins the flower's beauty. Use floral straws to support and protect the gerberas' delicate scapes.
Even intact scapes tend to curve. They may be straightened naturally by using a mesh screen or pierced packing container lid as a rack to support the blossoms, while dropping the stems through the mesh's openings and letting the stems hang into the nutrient solution in a container below, but not deeply enough to touch the bottom.
Process these flowers as soon as possible and store at 33–35°F (1–2°C) with a relative humidity of 90–95%. There is a common misconception that gerberas are chill-sensitive, but actual science does not confirm this.
Fun Facts:
One of the top 10 best-selling florist flowers worldwide.

Plants are propagated by tissue culture and grown in greenhouses and under shade cloth. Cut flowers are widely grown using hydroponics.

Flowers are harvested by pulling, not cutting, thereby inducing further flowering. Growers typically replace plants after two years of production.

Gerberas are a birth month flower for April.

Their bright, clean, pop-art look which is especially effective for massed designs, retro looks and children's arrangements.

According to a NASA study, potted Gerbera plants make great natural air filters! They absorb airborne toxins through their leaves and neutralize them through their roots.

Named for German naturalist Traug Gerber.

The word "veldt" is Afrikaans for high grasslands; Transvaal was the colonial name for the South African province native to wild Gerbera plants, and Barberton was the gold-rush mining town where Robert Jameson discovered the Gerbera daisy in 1889 and introduced it to Europe. Hence the common names veldt daisy, Transvaal daisy and Barberton daisy, along with the species name Gerbera jamesonii.

A member of the vast Asteraceae (daisy) family, Gerbera flowers are related to mums, dandelions and chickory.
Common Name
Barberton daisy, Transvaal daisy, veldt daisy
Botanical Name
Gerbera jamesonii
Pronunciation
GUR-buh-rah jaym-SO-nee-eye
Origin
Seasonal availability
Year Round
JAN
F
M
A
M
J
J
A
S
O
N
DEC
Language of Flowers Meaning
Gerbera flowers are used to symbolize cheerfulness, happiness and beauty.