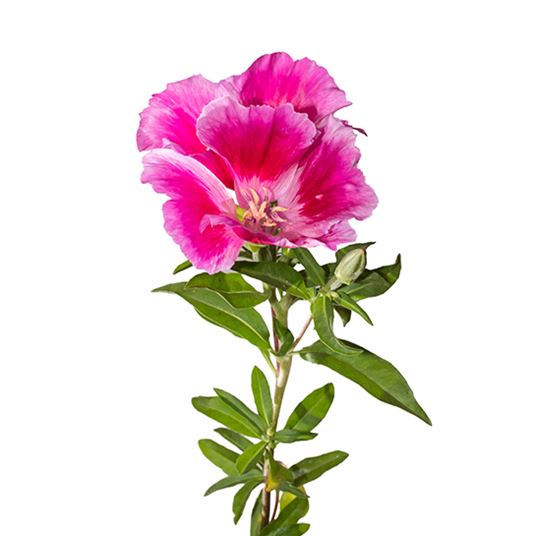 GODETIA
Clarkia amoena
KLARK-ee-a a-MEEN-a
Description
The genus Clarkia consists of about 40 annual herbs in the Onagraceae family; these vary in size, shape and color. Their origins can be traced back to the west coast of North America, particularly the state of California, where Native Americans used the plants' seeds as a food source. Modern-day cultivars are mostly used as ornamental plants and are likely derived from the Clarkia amoena and Clarkia unguiculata species.
Godetia plants are distinguished by their dainty, cup-shaped flowers and branched stems that typically grow between 30–92 cm in height. The flowers, measuring 5–7 cm across, usually consist of four ruffled petals, four sepals and eight stamens. Depending on the species, these may be clustered at the stems' tops or dispersed along its nodes. Each flower petal sometimes showcases a scarlet or purple-colored marking at its base; these "blotches" are said to have ecological effects on pollination. Cultivars are available in a variety of tones, such as white, pink, coral, red, lavender and several unique bi-colors. Godetia also features alternate, lance-shaped leaves that usually measure 2.5–7 cm in length. Its lower leaves fall by bloom time, while its upper leaves are more persistent and often folded in shape.
One of the plant's most eminent features is the delicate, papery texture of its flowers. The common name satin flower comes from this physical trait, where many say the petals feel like crepe paper. Godetia is also known as farewell-to-spring, given its bloom time of late spring (it's not particularly fond of hot summer weather).
Florists love Godetia for adding frilled texture and pops of color to spring and summer arrangements. With their multiple blooms, they make excellent filler flowers and work well as garden or potted plants.
Colors: White, pink, purple, salmon, red
Special Care
Select straight, sturdy stems with three to six open flowers. It's not recommended to use stems with all its flowers in the bud stage since not all will open properly.
When processing, strip any foliage that falls below the water line. Recut the stems about 2.5 cm at an angle (45-degrees) and hydrate them in warm water mixed with a commercial floral preservative (with an anti-ethylene agent) for at least two hours before storage or use in floral work. Make sure the preservative does not contain sugar, as it can cause leaf scorch. Although not required, stems can be recut under running water or in a bowl of clean water. Cutting under water may reduce the risk of air pockets forming at the stems' base and allows the flowers to absorb water right away.
Storage in cold temperatures is not recommended; this may turn the blossom color blue or almost transparent. For potted plants, store them in a bright yet cool area. Ensure that they are kept medium moist.
Godetia is suitable for drying. Strip the foliage from the stems, and hang them upside down in a dark, well-ventilated area.
Fun Facts:
The plant's genus name Clarkia was given in honor of famed 18th century U.S. expedition leader, Captain William Clark. He came across the plants while traveling in California and the Pacific Northwest, and was so captivated by their beauty that he started collecting their seeds to eventually share.

Originally, the plant's genus name was Godetia, named after 19th century Swiss botanist Charles Henri Godet.

In Latin, the epithet "amoena" means beautiful or pleasing—a very fitting name for this visually striking plant.

Certain Godetia species are known for their papery, crepe-like petals available in a variety of vivid colors. This textural attribute contributes to the plant's common name: satin flower.

All commercially grown cultivars (which are broadly grouped into single and double-flowered types) are derived from the species Clarkia amoena and Clarkia unguiculata.

Godetia is referred to as farewell-to-spring because it blooms mostly in late spring.

Godetia flowers are extremely versatile and make excellent additions to spring and summer floral recipes. They can be used as filler or focal flowers in everyday home arrangements or wedding bouquets and centerpieces.

Certain Godetia species feature spots on their petals at specific positions; this is an important ecological trait that affects pollination.

With their vibrant array of colors and cheerful blooms, Godetia is used to symbolize charm and enthusiasm.

Its common relatives are the evening primrose and Fuchsia.
Common Name
Clarkia, satin flower, farewell-to-spring, summer's darlin, herald-of-summer, atlas flower, red ribbons, fairy fans, rocky mountain garland flower
Botanical Name
Clarkia amoena
Pronunciation
KLARK-ee-a a-MEEN-a
Origin
Seasonal availability
JAN
F
M
A
M
J
J
A
S
O
N
DEC
Dryable
Yes* (Godetia is suitable for drying. Strip the foliage from the stems, and hang them upside down in a dark, well-ventilated area.)