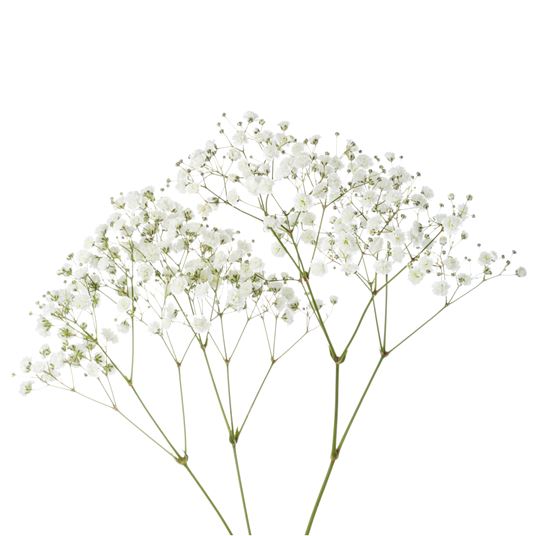 GYPSOPHILA
Gypsophila paniculata
jip-SOF-i-la pan-I-cu-LAH-ta
Description
Oh Gypsophila, the uncontested cliché of the flower world. It feels as if it's been featured in every bridal bouquet and Valentine's Day arrangement since the dawn of time, but we can never discredit gyp's ultimate claim to fame.
One of the world's most iconic wedding flowers, Gypsophila (commonly referred to as baby's breath or gyp) is known for its voluminous, cloud-like texture, ethereal aura and rich symbolism. These elements—combined with its prime availability and budget-friendly price point—are what make gyp a treasured filler (or focal) flower for use in wedding work and beyond.
Cultivated both as an annual and a perennial, Gypsophila is a member of the Caryophyllaceae family and its genus consists of approximately 150 species. It is native to Eurasia, but has also been found in Australia and Africa. For the fun fact lovers: the genus name (which roughly translates to "lover of chalk" in Greek) comes from Gysophila's preference for calcium-rich soils, which often contain the mineral gypsum. Today, only a handful of cultivars account for more than 90% of the Gypsophila used by designers across the globe, with 'Million Stars', 'Perfecta', 'Overtime', 'Funtime' and 'My Pink' cultivars taking center stage as industry favorites.
Gypsophila plants typically grow between 60-92 cm in height and feature blue-green, lance-shaped leaves. They are most notably recognized by their slender, intricately branched stems. Topping each of these branches are numerous clusters of small, delicate florets, whose bloom size may vary among cultivars. The florets are usually brilliant white in tone, but naturally cream and pink varieties—although uncommon—do exist. Extensive batches of these blossoms are what provide Gypsophila with that airy, cloud-like form, creating a misty appearance from a distance.
Annual Gypsophila (ex. Gypsophila elegans) features amply-branched stems with blue-green foliage and typically grows up to 50 cm in height. Their florets are typically larger and more open than the perennial form used by designers. Some common annual cultivars include: white-flowered 'Grandiflora Alba', 'Giant White', 'White Elephant', 'Lady Lace', 'White Monarch' and 'Snow Fountain'; popular pink/red flowered cultivars include 'Red Cloud' and 'Carminea'.
Perennial Gypsophila (ex. Gypsophila paniculata) is similar in appearance to G. elegans; however, these species boast a heftier rootstock and grow to approximately 100 cm in height. Its florets generally range from white to pink shades. G. paniculata cultivars include such popular varieties as white-flowered 'Million Stars' (small, semi-double blooms), 'Funtime' (small blooms), 'Overtime' (large blooms) and 'Xlence' (large blooms); naturally pink-flowered types include 'My Pink®' (large, double blooms) and 'Pink Fairy' (large, double blooms).
As one of the top filler flowers in the cut flower industry, Gypsophila is a staple accent in wedding bouquets and centerpieces. Many brides select it not only for its wispy beauty, but also its symbolic meanings. In the language of flowers, Gypsophila represents purity, innocence and everlasting love—all universal emotions shared between couples on their special day. Aside from their use in fresh designs, Gypsophila also works exceptionally well when dried.
This time-tested favorite will never grow out of style, and no matter the occasion, Gypsophila will lend a romantic and sophisticated touch to any floral arrangement.
Colors: White, pink
Special Care
Select bunches with sturdy, well-branched stems and evenly-space flowers; thirty to fifty percent of its florets should be open. Avoid bunches with any florets that are dried out, browned or showing signs of water stress. Gypsophila stems tangle easily, so exercise caution when pulling them apart. It's recommended to turn them upside down first and then shake them gently to loosen any hooked flowers or branches.
Recut the stems about 2.5 cm at an angle (45-degrees). Although not required, stems can be recut under running water or in a bowl of clean water. Cutting under water may reduce the risk of air pockets forming at the stems' base and allows the flowers to absorb water right away. Once cut, hydrate the stems in room temperature water mixed with a commercial floral preservative (with sugar and an anti-ethylene agent) for at least two hours before storage or use in floral work. The sugar helps the buds to open. To speed up the opening of the florets, pour one gallon of boiling water and two tablespoons of bleach into a one gallon storage bucket. Then place the stems in the hot bleach-water solution. With this, you should be able to see and hear the florets pop open like popcorn!
Although it's a hearty filler flower, Gypsophila is quite sensitive to ethylene, water stress, intense sunlight and botrytis. If subject to such conditions, the stems' florets will shrivel and brown, and their vase life will be shortened. For these reasons, make sure to always utilize clean storage buckets and a floral preservative with a fungicide when hydrating. Also, it's not recommended to "mist" Gypsophila because this may cause the florets to brown.
Gypsophila needs to be stored in high relative humidity to prevent the stems from drying out. In water, stems can be stored for up to four days at 34–36ºF (1.1–2.2ºC). Stems with up to fifty percent of their florets open can be stored for up to three weeks at 34ºF (1.1ºC).
Gypsophila is suitable for drying. However, in the drying process, their stems generate high levels of ethylene. So, make sure to dry Gypsophila in a warm, well-ventilated area and away from other flowers or fruit.
Fun Facts:
Gypsophila comes from the Greek words "gypsos" (meaning chalk) and "philos" (meaning beloved). It references the plants' preference for soils with high concentrations of gypsum, a mineral composed of calcium.

Only a few of the genus' cultivars account for more than 90% of the Gypsophila found in florist shops today. These include 'Million Stars', 'Perfecta', 'Overtime' and 'Funtime' varieties.

Gypsophila is one of the world's most widely used fillers among floral creatives, especially in wedding designs. These flowers are often featured in bridal bouquets, centerpieces and boutonnières. In other decorating projects, their most classic partner is the rose.

Some species of Gypsophila are used in herbal medicines; when extracted from these plants, chemical compounds called saponins have the ability to attack and break down certain cancer cells. Studies show that these saponins can potentially boost the efficiency of anti-cancer drugs by an exponential amount!

With their high saponin concentration, Gypsophila also has other commercial applications, such as their use in the production of photographic film. Their detergent qualities make them a practical ingredient in soaps and shampoos as well.

Gypsophila is edible and has been used in numerous cuisines. It is known to provide a mild, slightly sweet flavor when placed as a garnish on desserts and herbal cheese.

In the language of flowers, Gypsophila symbolizes innocence and eternal love; with these meanings, it's easy to see why it's such a beloved wedding flower!

Aside from their use in weddings, Gypsophila flowers are also a staple for celebrating baby showers and newborn babies. Their delicate, white petals are correlated with the pureness and innocence of children. This explains the common name, baby's breath, which is derived from this application.
Common Name
baby's breath, gyp
Botanical Name
Gypsophila paniculata
Pronunciation
jip-SOF-i-la pan-I-cu-LAH-ta
Origin
Seasonal availability
Year Round
JAN
F
M
A
M
J
J
A
S
O
N
DEC
Dryable
Yes* (As it is sensitive to ethylene, make sure to dry Gypsophila in a warm, well-ventilated area and away from other flowers or fruit.)
Language of Flowers Meaning
Gypsophila represents purity, innocence and everlasting love.