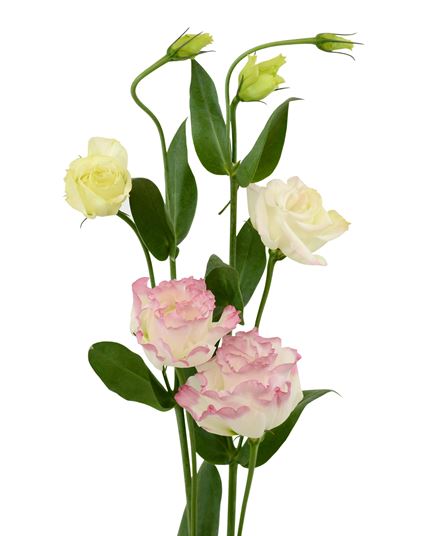 LISIANTHUS
Eustoma grandiflorum
yoo-STOH-mah gran-dih-FLOH-rum
Description
Lisianthus' sensually relaxed ruffles make delicious companions or even stand-ins for other flowers with similar silhouettes, while their lack of fragrance makes them ideal for the allergy-prone. Single-petaled lisianthus echo tulips and poppies, while double-petaled cultivars evoke open roses and peonies.
Each blossom measures 2–3" (5–7.5 cm) and spirals open in a loose five-petaled funnel. A deeply cupped, contrasting-color center bears short yellow stamens and pistil. Each stem grows eight to 10 flowers on cymes (several branchlets growing together from a main stem). One top bud opens first on each cyme and the others follow in stages, so new blooms keep unfurling for days after the flowers go home.
Lisianthus is a glabrous herb (smooth-leaved, non-woody plant) which is perennial, but grown as an annual. The brittle stems grow 6–24" (15–60 cm) from a central rosette. Fleshy oval leaves grow in pairs along the stems.
There are three species of lisianthus, and hundreds of cultivars for both the floral trade and home gardens. New hybrids are bred every year, including those with longer stems for cut flowers; shorter, more freely branched stems for potted flowers; plus mini and "extra-double" varieties.
Lisianthus blossoms are only minimally sensitive to ethylene, though they produce a measurable amount themselves. They have no scent.
Colors: Purple, lavender, pink, red, peache, yellow, white, bi-colors
Special Care
Choose stems with two or three open flowers, with the rest of the buds well-developed, relaxed but still closed and beginning to show traces of color. Buds that are tightly closed will wither without opening; flowers that are too open are susceptible to bruising in transit. Stems should be straight, with leaves full and unblemished.
For sturdy stems and fully-opening, color-saturated blossoms, lisianthus thrives on sugar. Stems should be pretreated with 12% sugar in the preservative and maintained with 4% sugar in the flower food right up to the last bloom. The solution must be changed often, though, and stems kept in low humidity with good air circulation, as they are vulnerable to botrytis infection.
Recut stems, place in floral solution and store upright at 33–35ºF (0.5–1.7ºC) in bright, indirect light. Don't store with ethylene-sensitive flowers. Even though lisianthus stems aren't severely affected by it, they give off enough ethylene themselves to impact other flowers. Lisianthus flowers are geotropic and reach up, away from gravity, so it is best to store them upright to prevent stem bending.
Display potted lisianthus in a cool spot: 68–70°F (20–21°C) by day and 61–64°F (16–18°C) at night. Lighting should be indirect and soil should be kept moist but not soggy.
Fun Facts:
Florist lisianthus was "captured" from the wild Texas prairie in the 20th century. It had flourished as a wildflower for centuries in grasslands from what is now the central plains of the United States mainland through South America. The seeds germinate best on freshly-turned soil, and the hooves of roaming herds of cattle, bison and horses churned up the prairie sod to create the ideal environment for lisianthus to thrive.

Interestingly, it was horticulturists in Japan who tamed the wild, spindly "Texas bluebell" into a robust commercial cultivar, coaxing a profusion of new forms and colors from it along the way.

Originally classified as Lisianthus russellianus, it was later reclassified as Eustoma grandiflorum, but its original genus name stuck and became the common name.

In Greek, Liasianthus translates to dissolving flower; it is a translation of the Greek words "lysis" (meaning dissolution) and "anthos" (meaning flower). In Greek, the genus name translates to beautiful mouth, and comes from the Greek words "eu" (meaning beautiful) and "stoma" (meaning mouth). In Latin, the specific epithet means large-blossomed.

In the Victorian "Language of Flowers," lisianthus symbolizes appreciation and an outgoing personality.

A member of the Gentianaceae (gentian) family, lisianthus is related to Gentiana and Persian violets.
Common Name
lisianthus, lira de San Pedro, prairie gentian, Texas bluebell
Botanical Name
Eustoma grandiflorum
Pronunciation
yoo-STOH-mah gran-dih-FLOH-rum
Origin
Seasonal availability
Year Round
JAN
F
M
A
M
J
J
A
S
O
N
DEC
Language of Flowers Meaning
Lisianthus symbolizes appreciation and an outgoing nature.