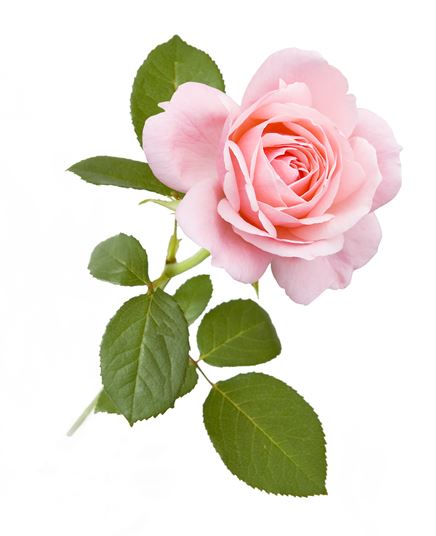 ROSE
Rosa cultivars
ROH-suh
Description
There are roses, and then there are all other flowers. This crown jewel of the floral world has captivated humankind for thousands of years with its voluptuous form, singular fragrance and healing properties.
The Rosa genus is as diverse as it is ancient. Its cultivars range from sprawling and climbing bushes with simple five-petaled blooms to proud-stemmed, luxuriant nests of endlessly unfurling petals. Some 3,000 of the genus' 20,000 cultivars are grown commercially.
Floral designers generally offer roses in four forms: the classic long-stemmed hybrid tea rose with one large flower per stem (over 3 ½" / 90 mm in diameter); a smaller, shorter sweetheart version (less than 3 ½" / 90 mm in diameter); a multi-flowered spray rose, with several small blossoms branching off of a single stem; and the diminutive miniature or pot rose. Hybrid tea, sweetheart and spray roses are sold as cut flowers, while the pot rose is sold as a blooming plant.
All four varieties have compound leaves, thorn-studded stems, and produce lush single or double blossoms with layers upon layers of soft petals. Some cultivars are richly scented and some have little to no fragrance at all. Likewise, some cultivars are ethylene sensitive, and others not so much. Roses dye well and dry easily. They may be preserved on their stems, or the blossoms may be deconstructed and the petals used fresh or dried.
Colors: Every bright and pastel color imaginable except true blue, in solids as well as a multitude of bi-color shadings and patterns.
Special Care
Roses need pampering to reach their full potential. Cut roses must be kept cold every step of the way from grower to showroom, and pre-treated for both ethylene exposure and botrytis infection. Ethylene gas can halt bloom development and cause petals to shed. Botrytis fungus can grow brown spots on petals and gray fuzz on stems, leaves or blossoms, and can plug up the stem's water uptake channels. Check with your supplier to make sure the roses have been pre-treated for ethylene; if not, make sure to treat them before they go into your cooler.
Roses may be stored dry in polyethylene-lined containers for up to two weeks at 33–35°F (1–2°C), but don't assume that lack of water means that botrytis can't grow.
When preparing the roses for sale, rehydrate in a low-sugar floral solution with a pH of 3.5. Most commercial flower food mixtures are 0.5–1.5% sugar, which is appropriate for roses. Recut the stems and remove the leaves below the water line, but leave the thorns; removing them can wound the stems and invite infection. Once hydrated, transfer roses to clean buckets with floral solution and biocide, keep the water 8–12" (20–30 cm) deep, and change frequently.
The key to minimizing botrytis and other microbes and maximizing vase life is to keep the work station, tools and containers sanitized, use a biocide in the water and replace it frequently. Water stress can cause bentneck, where the stems shrivel right below the blossom and the buds flop over without opening. Bentneck can also result from improper growing conditions or harvesting too early, so it's important to know your source and their methods.
Choose red and pink buds with two petals unfolding and the calyx curling more toward the stem than the blossom; yellow cultivars should be slightly more closed and white ones should be slightly more open. Keep roses and water near freezing at all times, with relative humidity of 80–90%.
Pot roses should be displayed in a bright, cool area at 68°F (20°C) with good ventilation and away from ripening produce. Water the soil moderately taking care to keep the foliage dry. Remove wilted leaves and flowers immediately. If needed, plants may be held at 36–39°F (2–4°C) for a couple of days on the cooler shelf, but don't store them in their shipping boxes. Pot roses are just as susceptible to botrytis as their cut cousins if not properly maintained, and especially sensitive to ethylene.
Fun Facts:
Cut roses outsell all other types of cut flowers combined, comprising about 60% of flower sales worldwide! Potted roses are also among the blooming plants in highest demand.

When rose blossoms are allowed to mature, they grow small, plump, fruits called hips, which are folk remedy gold: they are one of nature's most concentrated sources of Vitamin C and can be used to make a tart, nourishing herbal tea.

Rose petals can add a subtle flavor and pop of color to salads, oils, butters and candies. They can also be mashed into a soothing skin balm. Please note that only organic, untreated roses should be brewed, eaten or rubbed on.

Rose oil has been a prized perfume ingredient for centuries. Two thousand rose blossoms yield one gram of the precious oil.

Roses were considered sacred and used in ancient Egyptians' worship and burial rituals, and to this day roses enhance rites of passage from weddings to holidays to funerals in diverse faiths, countries and cultures across the globe.

The Rosa genus is so ancient that its botanical name evolved along with the plant and it has no other scientific meaning except to name the flower. In some languages, the word rosa is used to denote the color pink.

In days of old, knights were sold on the romance of roses. Not only was the rose used as a decorative element on royal crests and banners, roses were given as talismans of courtly love and were among the first flowers cultivated for their beauty alone.

In 1485, English King Henry VII designed the Tudor rose as his official royal seal. The stylized symbol depicts a five-petaled white rose nestled within a red one.

The first commercially cultivated roses were sold in bustling Renaissance marketplaces, and for the last four centuries the rose's propagation and popularity have only, well, grown.

Roses have always had a tender place in the hearts of artists and poets. The earliest painting known to art historians depicts a five-petaled rose. Renaissance painters used roses as symbols for purity and divine love. A list of rose references in literature could fill a book. Roses are still popular motifs in décor and fashion.

Modern cultivars are often named for famous personalities. Prince William of the United Kingdom and his wife, Kate, have a rose cultivar named after them, as did William's mother, Princess Diana. Beatle singer Paul McCartney, Impressionist painter Claude Monet and celebrities like Rosie O'Donnell, Whoopi Goldberg and Barbara Streisand also have roses named for them.

White roses are favorites for actress Scarlett Johansson and pop stars like Madonna and Britney Spears, while award-winning actress Meryl Streep and opera diva Monica Bellucci prefer red.

In addition to being the world's favorite cut flower, it's also the most popular flower for tattoos.

Fragrant roses give off more scent on sunny days, but they also have a shorter vase life than their less aromatic cousins.

Miniature roses were first cultivated in China.

The rose is the state flower of New York.

The rose is the national flower of Bulgaria, Cypress, Czech Republic, Ecuador, Iran, Iraq, Luxemborg, Maldives, Slovakia, and the United States.

Roses are the birth month flower for June.

The rose is the flower used to celebrate 15th wedding anniversaries.

The yellow rose is the 50th wedding anniversary flower, along with the purple violet.

A member of the prolific Rosaceae (rose) family, roses are related to nearly half of the grocery store's produce section. Relatives in the fruit-basket family reunion include apples, pears, peaches, plums, nectarines, cherries, raspberries, blackberries, almonds and many other tasty species.
Common Name
rose, hybrid tea rose, tea rose, long-stemmed rose, sweetheart rose, spray rose, cluster rose, pot rose, mini rose
Botanical Name
Rosa cultivars
Origin
Seasonal availability
Year Round
JAN
F
M
A
M
J
J
A
S
O
N
DEC
Vase Life
6 - 12 days for cut roses; pot roses bloom for 4 - 6 weeks.
Language of Flowers Meaning
Roses are the universal symbol of love and passion, but their different colors may also represent different meanings.