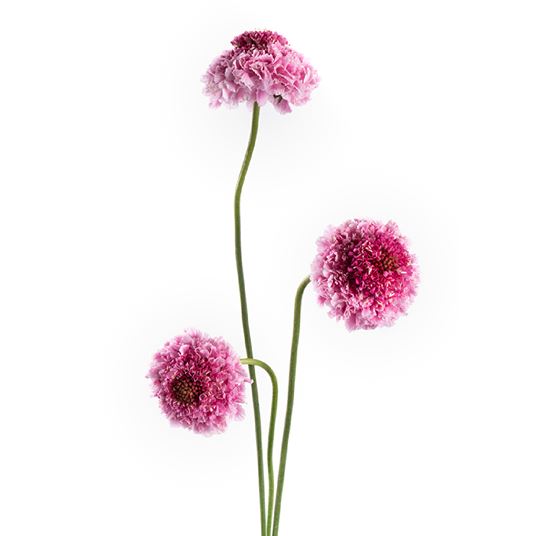 SCABIOSA
Scabiosa caucasica
skab-ee-O-sa caw-CAS-i-ca
Description
Spotlighting Scabiosa: the cottage garden classic. Although its name may have some unfortunate origins, this cannot detract away from its overall delicate beauty—which has become a favorite among home growers and butterflies alike!
A native to Africa and the Caucasus Mountains intersecting Europe and Asia, Scabiosa is a group of about 70 species of small, herbaceous annuals and perennials belonging to the Caprifoliaceae (honeysuckle) family. These plants are most notably recognized by their genus name and unique appearance. The word Scabiosa comes from the Latin word "scabere" meaning to scratch. In medieval times, it was believed that herbal remedies using Scabiosa could relieve the itch of scabies (a highly contagious skin disease) and other skin conditions. For generations, many African tribes also used the plant to treat cough, fever and internal inflammation. Aside from citing its medicinal uses, the plant's common name (pincushion flower) also references its whimsical shape. Its stem tops feature a central, rounded head that is studded with long, needle-like stamens, resembling pins on a pincushion. This creates a compelling contrast with its wispy petals that are showcased in calming colors, like blues, purples and white. Today, Scabiosa makes guest-starring roles in cottages and butterfly gardens, and designers love using it as a filler in traditional and garden-style arrangements.
Its petite, sparsely branched stems typically grow to 60 cm in height and feature blue-green, serrated leaves. Its clump-forming plants produce 20–50 blooms, each held individually on thin stems. These flowers (available in single or double blooms) measure up to 8cm in diameter, are nectar-rich and contain a central "cushion" composed of frilly, delicately-scented petals. Also protruding around the center of this cushion are long, pin-like stamens that add additional texture and attract pollinating insects.
Scabiosa species and their cultivars come in a variety of shapes and colors. Annual Scabiosa plants (Scabiosa atropurpurea) typically feature smaller flowers than their perennial siblings and may feature a wider range of colors—including burgundy, mauve, pinks and white. Perennial Scabiosa plants (Scabiosa caucasica) are most commonly found in blue or white hues, though some pink cultivars are available. Their flowers are larger, usually measuring up to 7.5 cm in diameter, and bloom from late spring until the first frost of fall. Also, unlike annual types, perennial Scabiosa plants have foliage that remains green all year.
This small but hardy plant packs a big punch, both in its looks and versatility. Its light, airy blossoms come in a variety of tones and add wonderful texture to fresh (or dried) floral arrangements. Whole Scabiosa plants also make excellent potted ornamentals, featuring a lengthy flowering season and requiring very little care. Let's not forget, their sweetly scented, nectar-rich flowers are literal magnets for butterflies, bees and other pollinating animals.
With its old-fashioned charm, incredible availability of colors and carefree maintenance, you can't go wrong with Scabiosa. It will add an ethereal touch to your home garden and works flawlessly as an accent in floral arrangements, especially for spring and summer weddings. Its seed heads can also be dried, which makes Scabiosa a good option for dried arrangements. When you want to show your feelings of pure love to someone special, give them a bouquet with Scabiosa blooms—you won't regret it!
Colors: Blue, purple, lilac, lavender, mauve, red, pink, white
Special Care
Select sturdy stems with flowers showing great color. Avoid soft stems and ones with damaged flowers; these are generally very delicate, so always be cautious when handling. Scabiosa stems may sometimes be crooked, but this is completely normal. White varieties also typically have thinner stems compared to blue or darker forms.
When processing, strip foliage that falls below the water line. Recut the stems about 2.5 cm at an angle (45-degrees) and hydrate them in room temperature water mixed with a commercial floral preservative (with an anti-ethylene agent) for at least two hours before storage or use in floral work. Although not required, stems can be recut under running water or in a bowl of clean water. Cutting under water may reduce the risk of air pockets forming at the stems' base and allows the flowers to absorb water right away. Botrytis may also develop on the leaves if its stems are packed too tightly, so avoid crowding too many stems together to allow enough space for air to flow around them.
Storage is not always recommended, but if needed, Scabiosa stems can be kept for up to two days at 37–41ºF (3–5ºC). To extend the life of the flowers in fresh arrangements, keep all stems away from direct sunlight, excess heat and drafts. Potted plants should be stored in a bright, cool area (no greater than 70ºF / 21ºC). After flowering, the plants can be cut back—they will flower again in four to six weeks.
Fun Facts:
The name Scabiosa comes from the Latin word "scabere" meaning to scratch. This likely references the plant's use by the Romans to treat scabies, a highly contagious skin disease, and other skin conditions. Historically, Scabiosa (particularly Scabiosa succisa) has been an ingredient in herbal medicines used by African tribes to treat cough, fever and internal inflammation.

The plant's epithet name references the Caucasus Mountain region, located between the Black and Caspian Seas, where Scabiosa is endemic.

The common name pincushion flower is derived from the flower's appearance; its prominent stamens emerge from compact, round blooms—similar in shape to pins on a pincushion!

One of the most popular cultivars of Scabiosa is 'Butterfly Blue'; it is especially common in butterfly gardens. In fact, most varieties within the genus are prime attractors of butterflies (and other pollinating insects) given their honey-like scent and nectar-rich flowers. Other well-known commercial varieties include: 'Black Knight' (deep burgundy flowers), 'Fama White', 'Fire King' (red flowers), 'Blue Cockade', 'Alba' and 'Perfect Alba' (both white flowers), 'Perfecta' (blue bi-color flowers), 'Pink Mist' and 'Kompliment' (lavender flowers).

At first glance, Scabiosa appears to be a member of the Compositae (Aster) family. In actuality, its species are members of the Caprifoliaceae (honeysuckle) family.

The plant's common relatives include Cephalaria, Knautia, Morina and Succisa.

Scabiosa is the national flower of Mongolia.

Scabiosa species are one of the few blooms that flower year round!

In the language of flowers, Scabiosa is symbolic of unfortunate love. The species Scabiosa atropurpurea (sweet scabious) features dark flowers that represent death or widowhood, therefore contributing to the common names mourning bride and mournful widow. So, for all the brides out there, you may want to think twice before using this particular variety in your wedding bouquet! Nonetheless, and on a much lighter note, because of its sweet fragrance and overall elegant radiance, Scabiosa is also said to represent pure love. Regardless of its ultimate use, this plant will offer a dainty touch and wildflower appeal to any floral arrangement or garden setting.

Although small, Scabiosa plants play big and versatile roles in floral work. As a cut flower, it works well as a filler or focal variety, adding light texture to fresh or dried arrangements. Its whole plants also make excellent potted flowers, and with little maintenance, can attract legions of butterflies to your home garden.
Common Name
scabious, sweet scabious, pincushion flower, mourning bride, mournful widow, Egyptian bride, starflower pincushion
Botanical Name
Scabiosa caucasica
Pronunciation
skab-ee-O-sa caw-CAS-i-ca
Origin
Seasonal availability
JAN
F
M
A
M
J
J
A
S
O
N
DEC
Language of Flowers Meaning
In the language of flowers, Scabiosa sometimes symbolizes unfortunate love, but it can also represent pure love.