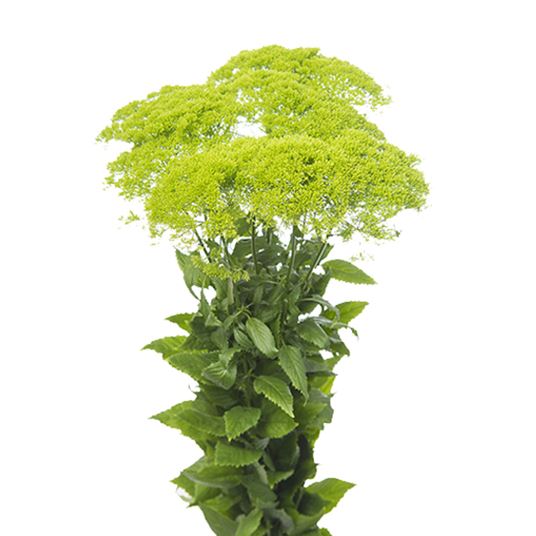 TRACHELIUM
Trachelium caeruleum
tra-KEE-lee-im su-ROO-lee-um
Description
Delicate and intricate, Trachelium stuns with its dense cushions of blue-violet blooms, adding a trés chic, lacelike appeal to any garden or floral arrangement. Not to mention, with a common name like throatwort, it's easy to understand the mysteries behind this uncommon herbaceous perennial!
A native to Western and Central Mediterranean countries (in Europe and North Africa), Trachelium is a clump-forming herb that was originally known as an important medicinal plant. In folk medicine, it was used to treat maladies of the throat. Its very genus name comes from the Greek word "trachelos" (meaning neck)—hence the common name, throatwort (or blue throatwort). Today, it is cultivated as a cut flower, and can be found growing in greenhouses, home gardens and open fields across the globe. Its two main cultivars ('Purple Umbrella' and 'White Umbrella') were the first to be grown in the U.S., after the plant's start of commercialization in the mid 1990s. In Europe, Trachelium has been grown commercially since the early 1980s. Nonetheless, Trachelium still remains a relatively unknown or untried variety for many floral creatives and cut flower growers.
Although several Trachelium cultivars exist today, it can be said that there are very little differences between them. Its blossoms are available in blue, purple, pink, green and white tones, but the florets of white cultivars tend to age more rapidly—and are more susceptible to disease—than its blue or purple counterparts. Also, as a member of the Campanulaceae family, its common relatives include campanula, adenophora and platycodon.
Members of the Trachelium genus are typically perennials, but can also be grown as hardy garden annuals. Its branched, erect stems grow from a woody base and can reach up to 102 cm in height. Its deep green leaves are lance-shaped and feature unparalleled veins. Topping the stems' branches are flat, dome-shaped clusters composed of hundreds of small, tubular florets that are about 1.3 cm in diameter and mildly scented. With their extensive, umbrella-like reach, some of these clusters can grow up to 20 cm wide! No wonder Trachelium works remarkably well as a filler for arrangements.
Trachelium may not be a common element in contemporary floral recipes, but it is slowly being used more regularly as an accent flower in bouquets and centerpieces. Given its broad wingspan and romantic appeal, florists are selecting this variety to add dreamy texture, a pop of color, and a hint of fragrance to their designs. Its stems can also be dried, but their florets will lose much of their fabulous hues as time progresses.
Colors: Green, pink, purple, blue, white
Special Care
Select straight, well-branched stems that have about half of their florets open. If stems are harvested too quickly, or sold too early, their flower clusters may not open properly. So, make sure any stems you use have lush flowering heads and unmarked, green foliage.
When processing, strip foliage that falls below the water line. Recut the stems about 2.5 cm at an angle (45-degrees) and hydrate them in room temperature water mixed with a commercial floral preservative (with sugar) for at least two hours before storage or use in floral work. Although not required, stems can be recut under running water or in a bowl of clean water. Cutting under water may reduce the risk of air pockets forming at the stems' base and allows the flowers to absorb water right away.
Stems can be stored at 36–39ºF (2.2–3.9ºC) for a couple of days. Trachelium is a heavy water drinker, so always ensure the stems are well hydrated. Also, due to their origins in regions with hot climates, they require about 16–18 hours of natural light each day. In white Trachelium cultivars, their florets tend to not last as long—and show more petal blackening—compared to purple or blue cultivars.
Trachelium is suitable for air drying. However, their florets tend to lose much of their color when dried.
Fun Facts:
The genus name comes from the Greek word "trachelos" meaning neck. This references the plant's use in traditional herbal medicine to treat sore throats and other tracheal ailments. This also explains the common name throatwort. "Wort" (also spelled "wyrt") is an old word with origins in England or Germany and means plant root.

Its epithet means dark blue, referring to the plant's typical violet-purple color.

Two main Trachelium cultivars, 'White Umbrella' and 'Purple Umbrella', were the first to be grown and popularized for commercial use in the U.S. in the 1990s. In Europe, Trachelium has been grown and used commercially since the 1980s. In 1998, it ranked 20th in both value and volume of cut flowers in the Dutch auction. Other new cultivars have emerged in the last few decades, affording growers a choice of novel red or pink flowers (among the traditional colors of white, violet and green).

Trachelium is classified as a dicotyledon, meaning its leaves are not parallel-veined.

A member of the Campanulaceae family, Trachelium is closely related to campanula and platycodon.

Trachelium plays versatile roles in floral work, working well as a filler in both fresh and dry arrangements. It is especially prized for its interesting texture, umbrella-like shape, full clusters and broad availability in colors. Its flowers also feature a delicate scent, similar to lilac.

Trachelium has been used to symbolize unnoticed or neglected beauty.
Common Name
throatwort, blue throatwort
Botanical Name
Trachelium caeruleum
Pronunciation
tra-KEE-lee-im su-ROO-lee-um
Origin
Seasonal availability
Year Round
JAN
F
M
A
M
J
J
A
S
O
N
DEC
Dryable
Yes* (Trachelium is suitable for air drying. However, their florets tend to lose much of their color when dried.)
Language of Flowers Meaning
Trachelium has been used to symbolize unnoticed or neglected beauty.